Design for the Community
英語教育研究プロジェクト
概要(Project Summary)
本科目は、地域連携教育研究プロジェクトです。本学の学生がデザイン思考の方法を用い、外国人住民に英語でインタビューを実施し、問題を見つけ、解決していくまでのプロセスを通して、地域との関わりを深め英語でのコミュニケーション能力とチームワーク作り、デザイン思考を学んでいきます。
This course is a project-based collaborative project conducted with the local governments. KIT students will use the Design Thinking method to discover and address issues specific to the foreign-resident community. Throughout the course of this project, students will learn not only the Design Thinking methodology, but also methods of English communication and teamwork, deepening their relationship with the community in the process.
プロジェクトでは、デザイン思考を用いプロジェクトの全ての行程を英語で進めていきます。また、このプロジェクトのユニークな点は、行政や市が一連の課題を出すのではなく、実際に住んでいる外国人に聞き取り調査をし、学生が自ら問題点を見つけ出すというところです。これにより、外国人住民の生の意見から必要性が高いものを選別、問題解決に取りかかることができます。
This project applies the Design Thinking method to address a new need in the foreign-resident community. Students will use English throughout the entire process and experience using the language as a tool for finding and solving problems within the Design Thinking framework. What makes this project unique is that students engage with the community directly to respond to problems at the grass-roots level. In other words, the city does not assign a task to the students; rather, the students themselves interview non-Japanese residents to discover what the real needs are. This allows students to discern the necessities for living in a given community that they may have never considered, and improve the day-to-day life of its residents and city services.
Design thinking/デザイン思考とは、近年複雑化している問題に対し、例えば、環境問題やエネルギー問題など、ビジネスや社会全体を巻き込んで新しいモノづくりやコトづくり、更には、新しい価値を生み出す問題解決を導き出す方法です。この考え方はモノ中心ではなくヒト中心のデザインを構築し、商品を作るのではなく地域全体をデザインし、その地域の風土にあった商品やサービスをデザインしていくというものです。
Design Thinking is a method that points the way to innovative solutions to complex problems in the contemporary world, such as the environment, through direct involvement in the community. Above all, this method is human-centered, in contrast to product-centered methodologies, and focuses on design that fits the particular needs and characteristics of a given community.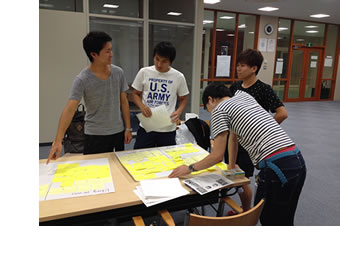 目標(Project Objectives)
Design Thinking/デザイン思考を用いた問題解決型学習を通して学生は以下のことを習得できます。
デザイン思考
地域の風土にあった問題解決能力
英語でのコミュニケーション能力
英語でのコミュニケーションを通してチームワーク作り
異文化適応能力
Through this project students will develop and apply the following knowledge and problem-solving skills in a practical way within the community.
Design Thinking
Community-based problem-solving skill
English communication skills
Functioning as a team in an English-language environment
Intercultural competence
プロジェクトスケジュール (Project Schedule)
1~8の課程を全て英語で行います。
学生へのデザイン思考ワークショップ
外国人住民に英語でインタビューを実施
インタビューでの情報を整理し、問題点を洗い出す
問題の解決策のアイデアを出し合い検討
解決策のプロトタイプ作製
インタビューした方々へプロトタイプの説明をし、フィードバックをもらう
フィードバックを基に、改良を加える
成果物をインタビューした方々に発表する
We will conduct steps 1-8, listed below, in English
Design Thinking workshop for the participants
Ethnographic studies (interview of foreign-residents)
Identify needs
Ideation (generate ideas, develop concept, and select design concept)
Build prototype
Propose solution and get user feedback
Use feedback to improve prototype
Present solution to foreign residents
外部機関連携 (Participating Outside Organizations)
野々市市役所 Nonoichi City Hall
コードフォー金沢 Code for Kanazawa (2015)
現在までの成果 (Showcasing Our Work)
担当教員(Faculty)