Life at KIT
Facilities
University Administration Bureau
2nd floor, Bldg. 1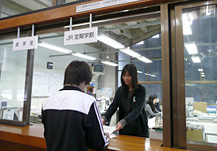 The University Administration Office is where students can complete campus procedures, such as course registration and transcript issuance. Students can ask any questions or discuss concerns they may have regarding these procedures and also about their campus lives.
Library Center
Bldg. 6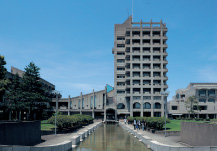 12-Story Science and Engineering Subject Library Building
The Library Center (LC) was built based on a completely new concept as a place for students to enrich the knowledge they gain in the classrooms and laboratories. Intended to be an effective tool for study, education, and research, the LC implemented an online library system and became Japan's first card-less library. In addition, the LC first created a Subject Librarian system where subject librarians, who are faculty members with expertise, are assigned to further library users' education. The LC is open till 22:00 on weekdays, 340 days a year.
Popular Music Collection (PMC)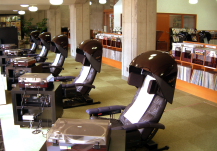 Of particular note is this facility located on the third floor of the Library Center. Here students can listen to about 220,000 LP records on state-of-the-art stereo equipment.
Center for Information Services & Processing
2nd floor, Bldg. 6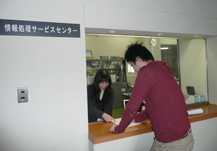 Students have access to the main-frame computer in the Computer Center. With permission from the Center, students can use the main-frame computer to carry out their projects for computer courses. All of the terminals on the main campus are connected to this central computer, and special terminals for CAD users are also provided for those taking CAD courses.
Math and Science Education Center
4th and 5th floors, Bldg. 23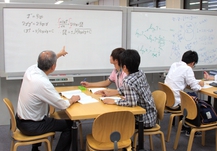 The Math and Science Education Center was established to improve students' math and science proficiency levels. The primary aim is to provide math and science instruction that focuses on the needs of individual students. Tutors are available during office hours and students can also attend guidance sessions to overcome any learning difficulties.
YUMEKOBO (Factory for Dreams and Ideas)
Bldgs. 41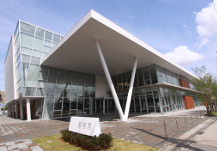 Experience the joy of applying your knowledge.
Engineering is the discipline of creating something that will be useful to people and society. YUMEKOBO is a space for creative activities, which is equipped with machine tools, devices for making electronic printed circuit boards, and a parts shop. It supports individual students and their creative activities. At YUMEKOBO, students can experience the joy of making products and applying their knowledge.
YUMEKOBO is operated and managed by students, which helps them realize their dreams.
Appointed officially by the university as 'safety management deputies,' the student staff operates and manages YUMEKOBO together with the technical staff. They are called 'Yellow Jackets' because of the color of jackets they wear. They advise users on how to use the machine and hand tools and support them in turning their ideas into reality. Student staff members can also improve their own fabrication skills through various kinds of work.
Make ideas into reality
KIT promotes project team activities called 'YUMEKOBO Projects'. Each project is managed by the students themselves, and they do everything from schedule management to budget planning. Each project team is made up of students in differing graduating classes and academic backgrounds. Concentrating their various individual knowledge and abilities, they work together to achieve their goals. Representatives from various companies are invited to an annual event where students present the results of their projects. The excellent functionality and designs of these projects are highly valued by the attending companies and many students receive job offers from them.
Essential English Center
2nd and 3rd floors, Bldg. 23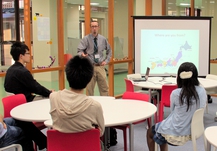 The Essential English Center (EEC) is a place where students can improve their English proficiency through a variety of English-based activities, including English Lounge, Mini-workshops, International Coffee Hour, English Lunch Table, and regular Office Hours for one-on-one tutoring sessions. For students who want extra listening practice, we produce an English podcast that is available online. The EEC also helps prepare students who plan to participate in KIT's study-abroad programs.
Center for International Programs
2nd floor, Bldg. 23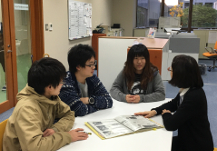 KIT has various programs that give students extensive experience through international study exchanges. The Center for International Programs serves as a contact to all of these study abroad programs and provides total support to students in these programs. Students participating in a long-term program (4-9 months) go to the KIT sister schools in the US and the UK, while the short-term programs (2-4 weeks) go to the sister schools in New Zealand, United Kingdom, or in ASEAN countries. KIT accepts international students from the sister schools in the US and the UK and provides intensive Japanese language study programs every summer. Aside from foreign language studies, we have a program called "Learning Express" which is a project-based learning where the students stay in villages of ASEAN countries and work together with students having multinational backgrounds to learn processes of problem finding through prototype creation. Through such practical experiences of international exchanges, KIT students are expected to become global engineers who can work without boundaries.
Study Hall
1st floor, Bldg. 7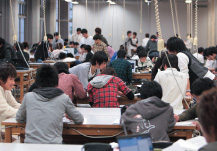 The Study Hall provides students with a space for individual and group work. It is open 24 hours a day, 365 days a year with 225 seats available to students.
Career Planning and Placement Office
2nd floor, Building 10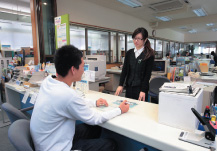 The full-time staff at the Career Planning and Placement Center is available to give job placement advice to students. They offer resume editing and job interviewing practice. KIT keeps an updated database of over 25,000 corporation's vital information and this database is available to all students.
Also, the office coordinates a low-cost shuttle bus service to Tokyo, Osaka, and Nagoya for students interviewing with companies there.
Career Skills Development Center
3rd floor, Building 8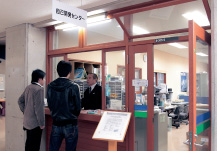 The Career Skills Development Center is responsible for supporting students who want to improve their skills by proving information regarding and study classes for a variety of certification examinations.
The Center provides the opportunity for students studying for certification examinations to learn from students who have already received certifications. This project is called "Students Learning From Students."
IT Education & Research Center
1st floor, Bldg. 6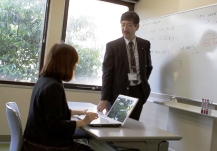 The IT Education & Research Center provides tutorials on IT literacy and programming basics for all students. In addition, they offer support for acquiring IT literacy related qualifications.
Health Center (Ohgigaoka Clinic)
1st floor, Bldg. 11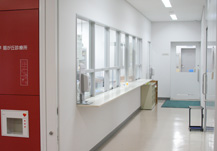 At the Health Center, students under the school's insurance can receive basic medical treatment of up to 30,000 yen per year.
Sports Lab
2nd floor, Gymnasium #2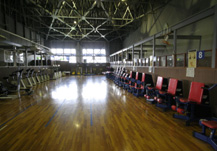 The Sport Lab is equipped with various kinds of training equipment. Professional staff are available for assistance using the equipment. It is open until 20:30 on weekdays.
How to use:
Sign up at the 2nd floor desk (write your name, date and time of use).
Indoor shoes and training clothes must be worn.
Towels are not provided.
Do not bring valuables as there are no lockers with keys.
Use the machines carefully and correctly.
Handle the equipment with care.
Do not do any activities that may be a nuisance to others.
Follow the instructor's instructions.
The shower room is on the1st floor next to the entrance.
Cafeterias (LA TERRA and IL SOLE)
Bldg. 21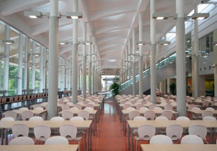 LA TERRA, on the first floor of Building 21, is the largest cafeteria on campus. A wide variety of dishes are served here throughout a day. IL SOLE, which serves various types omelet-rice dishes, is on the second floor of this building.
Convenience Store (AQUA)
Bldg. 27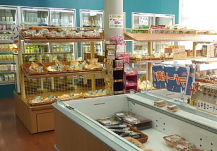 A variety of box lunches, drinks, snacks, and fresh-baked breads are sold here.
Counseling Center
Bldg. 36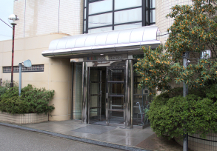 At the Counseling Center, students can receive counseling from 8 full time clinical psychologists on various problems of daily living to mental issues.
KIT Book Center
2nd floor, Bldg. 21
Books, magazines, and stationery supplies are sold here. Books and magazines which are not in the store can be ordered.
KIT Service Center
2nd floor, Bldg. 21
Insurance information is available at the KIT Service Center. The Service Center also functions as a full-service travel agent. You can buy airplane, train, and bus tickets, and make hotel reservations as well.
Post Office
1st floor, Bldg. 5
The post office on KIT campus is open 9:00-16:00, Mon-Fri.
Refer to http://www.post.japanpost.jp/english/index.html or ask at the post office for other services.