International Exchanges
Incoming International Students

KIT JLP Summer 2020 Guidebook
Welcome to KIT JLP Summer 2020!
About KIT JLP Summer 2020
Program Overview
Hello and welcome to KIT Japanese Language Program (JLP) Summer 2020! This program is offered as a part of the student exchange agreements between KIT and its sister schools. It aims to give them rich experience in 1) improving communication skills in Japanese language and 2) understanding Japanese culture and society through lectures and cultural programs.
Eligibility
Applicants must be enrolled in one of the KIT's sister schools and apply through its international office. Students in any major can apply. Participants will be placed in one of three courses listed below, based on the results of a placements exam on the first day of the program.
Japanese Communication I for novice learners
Japanese Communication II for novice-high to intermediate learners
Japanese Communication III for intermediate-high to advanced learners
Courses and Credits to be awarded
Participants are enrolled in one of the three 4-credit language courses listed in the previous section and in another 4-credit culture course, Japanese Seminar. Those who complete both courses will be given a certificate and granted 8 credits from KIT.
Schedule
KIT JLP Summer 2020 starts from June 8th to July 17th.
<Arrival>
KIT will provide a free pickup service at 14:00 on June 8th. We will meet the students outside the JR and Shinkansen gates of Kanazawa station (see below). The room key is given to each student upon arrival.
Kanazawa Station Map
We strongly recommend you to plan your travel itinerary to catch this free ride for your safety and relief. However, for those who cannot use our free ride by any possibility, please come to our "KIT International Community House" (i.e. building 47, see below for the location) by themselves between 10:00 and 15:00 using public transportation services (see How to get to Kanazawa).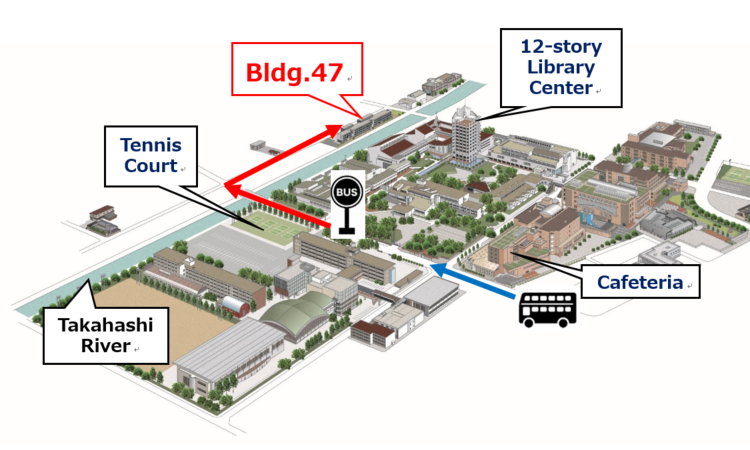 Please input the following address if you use navigation to come to Bldg. 47:
13-10 Takahashi-machi, Nonoichi, Ishikawa 921-8811, Japan
ATTENTION!!
DO NOT send any baggage to this address. NO staff stays here to receive it, and sending your baggage here may result in lost baggage.
***IMPORTANT DATES***
Room check-in date
June 8th
-use a free pick up service at 14:00 am

at JR Kanazawa station (recommended)

OR

-come to KIT International Community House by yourself sometime

between 10:00 am to 15:00 pm

Living orientation
June 9th
Opening ceremony
June 10th
Welcome party & Placement test
June 10th
lauguage Exchange Camp (overnight)
June 13th - 14th
Closing ceremony & Farewell Party
July 16th
Room checkout time
9:00 am, July 17th
Faculty and Staff
Program Faculty
Name
Kiyomi Fujii
Brent Wright
Etsuko Inoguchi
Staff
Name
Title
Kazunori Kugo
Director, International Program Office
Sanae Komori
Section Manager, Exchange Program Section
Shizu Fujimura
Staff, Exchange Program Section
Yumi Miyazaki
Staff, Exchange Program Section
Sachiko Fukami
Staff, Exchange Program Section
Contact us
Please contact below for any inquiries.
Email: ryugaku@kanazawa-it.ac.jp